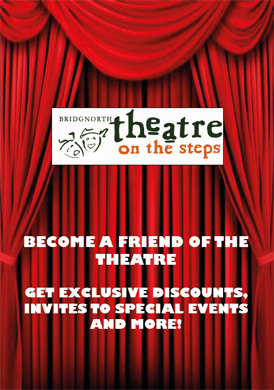 Latest News
YOUTH ON THE STEPS
3rd SEPTEMBER 2021
YOUTH ON THE STEPS
THE AUTUMN SEASON 2021
FIRST SESSION 11th SEPTEMBER TO 16th OCTOBER
SECOND SESSION 6th NOVEMBER to 11th DECEMBER
Well, it has been a terrible 18 months for everybody, and we hope that you have all got through the pandemic safely.
I do not think anybody thought that it would go on for so long, each time we started to plan to reopen the theatre and Youth on the Steps,
new restrictions were imposed.
Now, at last the Theatre is open with a full programme of shows right through to this time next year.
Our Autumn season will start on the 11th September and is split into 2 six week sessions to coincide with school holidays,
Please make payment of £108 on the 11th September and 6th November.
PLEASE MAKE PAYMENTS ON TIME - IT WASTES SO MUCH TIME HAVING TO REMIND PEOPLE TO PAY AND TO ADMINSTER THE PAYMENTS WEEK AFTER WEEK.
If this causes any difficulty then please contact us.
We will be working on THE GHOST WALK show which is on the 27th and 28th October, and also the pantomime,
DICK WHITTINGTON which runs from the 8th to 29th January.
We will also try to start work on LAMDA exams. which will be held next year,
We appreciate that a lot of time has passed since we last held Youth On the Steps and your interest may have changed so:
Please tell us as soon as possible whether or not you want to return to Youth on the Steps.
We do have a number of people on the waiting list who might want to join us and we would like to invite them to join if we have places available.
Please email iain@theatreonthesteps.co.uk
Almost all the work we do at Youth on the Steps is performance based, and no matter how small or large the part you have in a show whenever you are on stage you are enhancing that show. Everything we do at Youth on the Steps is a team effort and everyone depends on each other to create a show, when someone is missing it makes it very difficult for the other members of the team to fulfil their role.
Please note that appropriate clothing needs to be worn and students should wear track suit bottoms, leggings or dance trousers, jeans or skirts are not suitable for dancing, and all students should wear jazz shoes, split soled trainers are fine for rehearsals but jazz shoes must be worn for performances. Please do not wear loose jewellery and fasten your hair back.
If you know you will not be able to come on a particular date please let us know the week before. If you are ill and unable to come please let us know as soon as possible, either on Friday night or before 10 am on Saturday morning.
If you do not attend for 2 Saturday mornings without advising us then we shall assume that you no longer wish to come to Youth on the Steps.
We appreciate the difficulty of parking in the Town, we have to park too, but we need to start on time so please arrive ready to start work at 10am.
We regret that we will not be able to refund monies should anyone not attend a Saturday morning session or not complete the seasons.
Supported by: