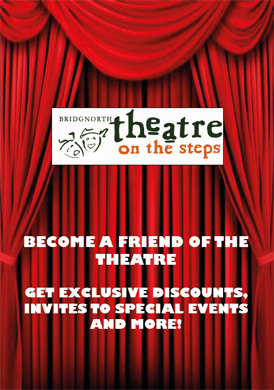 The Pink Floyd Show
FRIDAY 15th FEBRUARY 2019 8:00 pm to SATURDAY 23rd FEBRUARY 2019 8:00 pm
Darkside performing The Pink Floyd Show
Darkside, The Pink Floyd Show, brings the fine art of Floyd live to Bridgnorth. With over 14 years of touring under our belt and selling out theatres across the country, we are very pleased to be returning to The Theatre on the Steps as part of our 'Which One's Pink?' tour.
Seven musicians will deliver a show with empathy and passion, performing tracks from Pink Floyd's massive back-catalogue, from the early magical days of founder Syd Barrett through to later iconic albums, renowned for their complex structures, such as Dark Side of The Moon. The emphasis will be on replicating the experience and energy of Pink Floyd live on stage in the 70s, which many believe was Floyd at their very best. It certainly isn't karaoke Floyd, so prepare to be rocked!
As would be expected, the show incorporates thoughtful and evocative lighting, powerful images and high-quality sound, all complemented by the trademark circular screen.
.
BOOK EARLY - THIS SHOW SELLS OUT VERY QUICKLY.
Tickets £18.00 in advance £20 on the door
THEATRE ON THE STEPS - CONDITION OF TICKET SALES
Once purchased tickets may not be exchanged nor money refunded.
Smoking in all areas of the Theatre is strictly forbidden.
Only food and drink purchased on the premises may be consumed in the building.
Mobile phones and digital watch alarms must be switched off in the auditorium.
In the interests of other patrons, babes in arms are not usually admitted. Exceptions may be made for pantomime and certain children's shows, when prior arrangements should be made with the Box Office and a ticket purchased irrespective of the age of the child.
Due to fire regulations, all patrons, including babes in arms, must be in possession of a valid ticket before entering the auditorium.
The management reserve the right to refuse admission of the ticket holder to the premises.
The Management reserve the right to request the ticket holder to leave the premises and to take any appropriate measure to enforce such a request.
Cameras and any form of audio or visual recording equipment are strictly forbidden in the auditorium.
Latecomers will not be admitted, (prior to the show or after the interval) until a suitable break in the performance. Latecomers if admitted, may be required to occupy alternative seats.
The Management may alter or vary the programme, artistes and timings without consultation or compensation.
The performance may be cancelled for reasons beyond the control of the Management without notice and without the Theatre being liable to pay any person any compensation whatsoever other than a possible percentage or maximum refund to the ticket holder of the value of the ticket.
When you book online we reserve the right to refuse entry to the theatre if your order confirmation e-mail is not produced upon your visit to the Theatre.
Supported by: