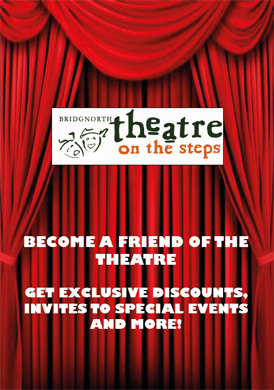 Whole lotta Shakin' - The Shakin' Stevens Story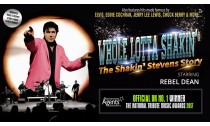 The Award Winning "Whole lotta Shakin' - The Shakin' Stevens Story"
has been voted the no.1 Winner by The National Tribute Awards for Best UK Tribute show 2017 and recently performed on BBC1's prime time Saturday night show "Even Better than the Real Thing".
The rags to riches story based on the 40 hits of 80's rock 'n' roll icon Shakin' Stevens. Starring Rebel Dean (West End, London Palladium, That'll be the Day) with full live band and projection screen.
The performance includes a full concert (including the famous denims and pink jacket) as would have been seen during the late 80's including all the hits - "Green Door, This ole House, Oh Julie,You Drive Me Crazy and many more.
If you've ever wondered what's behind the Green Door , now is your chance to find out!!

Watch the video https://www.youtube.com/watch?v=EQmuuRNVOk4
THEATRE ON THE STEPS - CONDITION OF TICKET SALES
Once purchased tickets may not be exchanged nor money refunded.
Smoking in all areas of the Theatre is strictly forbidden.
Only food and drink purchased on the premises may be consumed in the building.
Mobile phones and digital watch alarms must be switched off in the auditorium.
In the interests of other patrons, babes in arms are not usually admitted. Exceptions may be made for pantomime and certain children's shows, when prior arrangements should be made with the Box Office and a ticket purchased irrespective of the age of the child.
Due to fire regulations, all patrons, including babes in arms, must be in possession of a valid ticket before entering the auditorium.
The management reserve the right to refuse admission of the ticket holder to the premises.
The Management reserve the right to request the ticket holder to leave the premises and to take any appropriate measure to enforce such a request.
Cameras and any form of audio or visual recording equipment are strictly forbidden in the auditorium.
Latecomers will not be admitted, (prior to the show or after the interval) until a suitable break in the performance. Latecomers if admitted, may be required to occupy alternative seats.
The Management may alter or vary the programme, artistes and timings without consultation or compensation.
The performance may be cancelled for reasons beyond the control of the Management without notice and without the Theatre being liable to pay any person any compensation whatsoever other than a possible percentage or maximum refund to the ticket holder of the value of the ticket.
When you book online we reserve the right to refuse entry to the theatre if your order confirmation e-mail is not produced upon your visit to the Theatre.
Supported by: