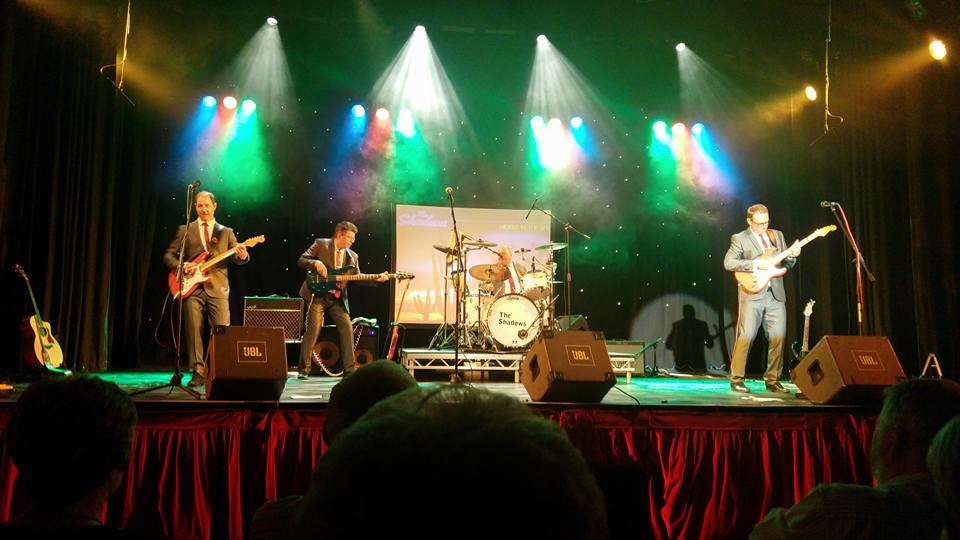 FRI 17th APR 2020 8:00 pm to SAT 18th APR 2020 8:00 pm
Into the Shadows recreate the unique sound The Shadows.
...
OUR 2020 SEASON
CORONAVIRUS (COVID-19) UPDATE

17th MARCH 2020
In line with the advice given last night by the government the Theatre has cancelled all performances until the end of April.
We will review the position on a frequent basis and take appropriate action– in line with government advice and the position and health considerations of our staff and volunteers.
The shows that have been cancelled are
Mike Farris Wednesday 18th March
Forever Elton Saturday 21st March
Patrick Monahan 28th March
The Rat Pack is Back Saturday 4th April
Into the Shadows 17th 18th April.
The Theatre will work with the performers to reschedule the performances, wherever possible, once Coronavirus has been contained or defeated, and we will keep you updated on that situation.
The Theatre on the Steps does not receive any aid from the Arts Council, local government or any other source and relies entirely on the income it receives from its shows
Ticket holders can either
1. Retain their tickets and once a new date has been fixed transfer them to that date, if they are able to attend – if the new date is not acceptable then the theatre will provide a full refund.
2. Have their tickets refunded in full immediately.
3. Instead of having a refund – donate their ticket money to the theatre which will help us to keep the Theatre on the Steps alive during this difficult period and be able to continue to provide a wide range of entertainment once things return to normality.
The Theatre on the Steps is proud to have served the community since 1964 – help us to continue serving the community for another 56 years!
Our Box office staff will contact all ticket holders with these options.
As we are sure you will appreciate it will be a busy time for our Box Office staff so if possible please email us @ theatreonthesteps@btconnect.com rather than telephone.
PLEASE NOTE THAT IN ORDER TO PROTECT OUR BOX OFFICE STAFF THE BOX OFFICE WILL BE CLOSED TO THE PUBLIC WITH IMMEDIATE EFFECT

Please be assured that we will do our best to deal with all enquiries as quickly as possible, but we ask you for your patience and understanding.
YOUTH ON THE STEPS 18th March 2020
Following the advice given by the government about not visiting theatres and "social distancing" "unnecessary travel"
We are cancelling the next two Saturdays at Youth on the Steps.
That will bring us to the Easter break and we are due to return on 25th April
We will review the situation the week before the 25th April and will continue to follow advice given by the government,
and let you know the situation.
TAKE A LOOK – AND REMEMBER MANY OF OUR SHOWS SELL OUT
SO BOOK EARLY TO BE SURE OF YOUR SEATS.
NOW BOOKING
DICK WHITTINGTON -GREAT FAMILY PANTO RUNNING THROUGHOUT JANUARY 2021
THE HUGELY POPULAR GHOST WALK IS NOW BOOKING FOR 2020
Drama with Death at Sea(s)
Music with
Into the Shadows
Forever Elton
Grammy Award wining Mike Farris
Roxy Magic
Killer Rhapsody -Queen Tribute
Gordon Hendricks
The Stones
Surf's Up
Viva La Coldplay and Abba return in The Spring
and much much more in 2020
IF YOU HAVE ANY QUERIES PLEASE EMAIL ADMIN@THEATREONTHESTEPS.CO.UK
Supported by: