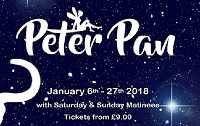 FRI 19th JAN 2018 7:00 pm to SAT 27th JAN 2018 2:00 pm, 7:00 pm
PETER PAN-Good old fashioned pantomime with fantastic flying sequences
...
OUR 2017 SEASON
NOW BOOKING - PETER PAN
RUNNING THROUGHOUT JANUARY 2018
START 2018 WITH COMEDY WITH THE WICKED WITCH OF FIZZOG FOLLOWED BY SHAZIA MIRZA,
DRAMA WITH NO FINER LIFE -AND -SOON TO BE ANNOUNCED - CLUB CLASS
THE BEST OF TRIBUTES WITH
WITH DARKSIDE, WINGS OVER ABBEY ROAD, SENSATION, HATS OFF TO LED ZEPPELIN, STRICTLY ABBA, PLUS MUCH MUCH MORE
TAKE A LOOK – AND REMEMBER MANY OF OUR SHOWS SELL OUT
SO BOOK EARLY TO BE SURE OF YOUR SEATS.
THE HUGELY POPULAR GHOST WALK IS NOW BOOKING FOR 2018
DON'T MISS NOAH THE MUSICAL IN JUNE
DUE TO STAFF SHORTAGES OUR BOX OFFICE WILL HAVE VARIED OPENING HOURS
PLEASE CALL 01746 766477 TO CHECK BOX OFFICE OPENING HOURS OR CHECK THIS WEBSITE.
WE APOLOGISE FOR ANY INCONVENIENCE CAUSED.
NATURALLY YOU CAN BOOK ON LINE AS ALWAYS.
IF YOU HAVE ANY QUERIES PLEASE EMAIL ADMIN@THEATREONTHESTEPS.CO.UK
Supported by: