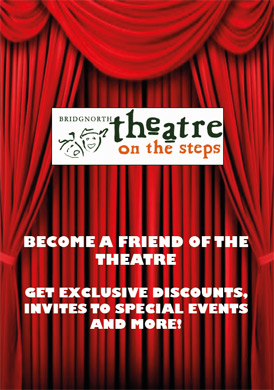 Booking Information
IN ADDITION TO BOOKING ON LINE - TICKETS CAN BE PURCHASED IN PERSON AT THE BOX OFFICE AT THE TOWN HALL, HIGH STREET, BRIDGNORTH, OR BY TELEPHONE, PAYING BY CREDIT CARD, DEBIT CARD.
The Box Office is open from 10am to 4pm Monday to Friday and 10am to 1.30pm on Saturday
You can now book online with the facility to choose your own seat - simply follow the BOOK NOW link from anywhere on this site.
TICKET PRICES
Ticket prices for all shows are indicated on each of the show pages.
CONCESSIONS
Friends Concessions - 50p of all tickets. Click on the Become a Friend link for details of how to become a Friend.
Where concessions are available these are for over 65's and Children 16 and under. Proof of age may be requested when collecting or presenting tickets.
Only one discount/concession can be applied.
BOOKING TICKETS BY TELEPHONE
Box Office: 01746 766477
GROUP BOOKINGS
Group Bookings are available for performances where shown - For further information call our Box Office on 01746 766477 or email boxoffice@theatreonthesteps.co.uk
METHODS OF PAYMENT
The Theatre accepts payment by cash, Visa (including Visa Electron), Delta, Mastercard, Maestro, and Solo. A booking charge of £2 is made for each credit card transaction.
N.B. Tickets may be reserved but must be paid for within three working days of making the booking or no later than three days before the performance, whichever is sooner.
It is a condition of sale that once purchased, tickets cannot be exchanged or money refunded.
REFRESHMENTS
The theatre has a bar which is open one hour before the performance. You can enjoy a drink before the show, and pre-order your interval drinks, and bar is normally open after evening performances.
Supported by: