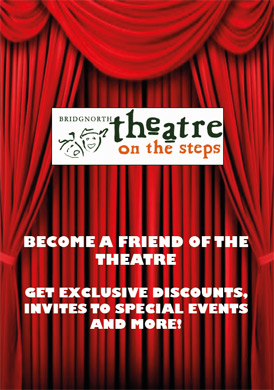 About
The Theatre on the Steps in Bridgnorth came to existence in 1964 when the Congregational Chapel halfway down Stoneway Steps was bought by the local amateur dramatic society.
They converted it into a theatre in 1964 and since then it has undergone several stages of improvement.
The most notable during the last 10 years with the Balcony being restored and brought into use, the installation of central heating, new ladies toilets, a new bar and foyer area, new raked seating in the Stalls. During the summer of 2010 a new stage, fly gallery, sound and lighting systems were installed and the gents toilets were also refurbished.
The Theatre has 180 seats, 120 in the stalls and 60 in the Balcony, there are spectacular views from the Green room, over the Severn Valley covering the River Severn and Bridgnorths Low Town. The Councils web cam for Bridgnorth is mounted on the theatre as it offers the best views of the valley.
For 45 weeks a year the theatre offers a wide variety of drama, music and dance, with its own company of actors and singers mounting several productions including the annual pantomime. The rest of the programme is filled by visiting theatre companies, bands and artists. Over the years the theatre has been privileged to host performances from Honor Blackman, Kiki Dee, Paul Jones, George Melly to name but a few.
The theatre is run and staffed by volunteers and it does not receive any contributions to its running costs from the Arts Council or local government and relies solely on the profit it makes from the shows it stages to keep the theatre running and to pay the majority of the refurbishment costs.
Over the last 10 years our annual audiences have increased to over 12,000 and we draw our audience not only from Shropshire, but also the West Midlands, and more and more people from around the country come to stay in Bridgnorth specifically to see a show at the Theatre on the Steps.
Email: admin@theatreonthesteps.co.uk
Supported by: