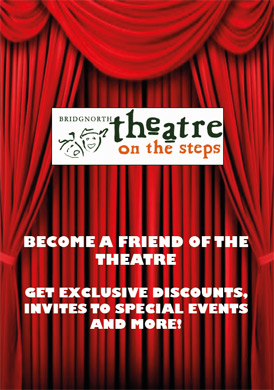 DRACULA SPECTACULA - A Youth on the Steps production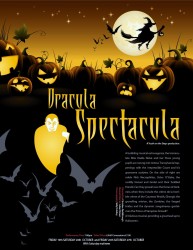 A bubbling musical extravaganza, the immaculate Miss Nadia NaÏve and her three young pupils are swung into riotous Transylvania happenings with the irrepressible Count and his gruesome acolytes. On the side of right are noble Nick Necrophiliac, Sister O'Stake, the cuddly Hansel and Gretel and their fuddled friends: Can they prevail over the forces of darkness- when they include the créme de la horrible créme of the Countess Wraith, Ghengis the groveling minion, the Zombies, the fanged brides and the dynamic sanguineous gentleman the Prince of Vampires himself?
A hilarious musical, providing a great lead up to Halloween.
Directed by Christine Reddihough
Musical Director Julian Brown
Choreography Sally Hobday
Performance Time 7.00pm
Matinees 2.30pm
Ticket Prices £9.00 Concessions £7.00
THEATRE ON THE STEPS - CONDITION OF TICKET SALES
Once purchased tickets may not be exchanged nor money refunded.
Smoking in all areas of the Theatre is strictly forbidden.
Only food and drink purchased on the premises may be consumed in the building.
Mobile phones and digital watch alarms must be switched off in the auditorium.
In the interests of other patrons, babes in arms are not usually admitted. Exceptions may be made for pantomime and certain children's shows, when prior arrangements should be made with the Box Office and a ticket purchased irrespective of the age of the child.
Due to fire regulations, all patrons, including babes in arms, must be in possession of a valid ticket before entering the auditorium.
The management reserve the right to refuse admission of the ticket holder to the premises.
The Management reserve the right to request the ticket holder to leave the premises and to take any appropriate measure to enforce such a request.
Cameras and any form of audio or visual recording equipment are strictly forbidden in the auditorium.
Latecomers will not be admitted, (prior to the show or after the interval) until a suitable break in the performance. Latecomers if admitted, may be required to occupy alternative seats.
The Management may alter or vary the programme, artistes and timings without consultation or compensation.
The performance may be cancelled for reasons beyond the control of the Management without notice and without the Theatre being liable to pay any person any compensation whatsoever other than a possible percentage or maximum refund to the ticket holder of the value of the ticket.
When you book online we reserve the right to refuse entry to the theatre if your order confirmation e-mail is not produced upon your visit to the Theatre.
Supported by: