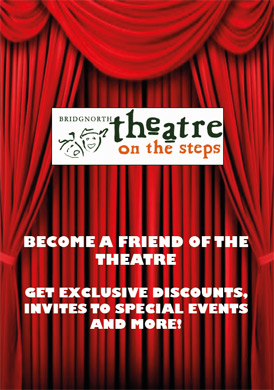 TERROR!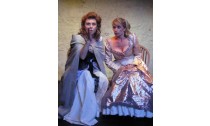 TERROR - A BLACK COMEDY by Joan Greening (creator of TV's Cabbage Patch and Trouble and Strife). During the French Revolution, two old courtesans, Jeanne Du Barry and Grace Dalrymple Elliot, spend the night together in Sainte-Pélagie Prison awaiting the guillotine the next day and hoping for a last minute reprieve. Will they find a way to escape the chop?
The five star rated company A Drunken Sailor begin their national tour at Bridgnorth after premiering at the Edinburgh festival this year. 'Always an entertaining play - like Horrible Histories, it's history with the horrible bits left in. 'A great show - intelligent, funny, touching and full of interesting historical details.' ' A real treat'
Past praise for performers Julia Munrow and Julia Rufey. 'Funny and touching' (Times). 'Hilarious' (Guardian) 'Exerts a control over the stage that is almost tangible'( Herald)
' Funny and engaging' Broadway Baby
THEATRE ON THE STEPS - CONDITION OF TICKET SALES
Once purchased tickets may not be exchanged nor money refunded.
Smoking in all areas of the Theatre is strictly forbidden.
Only food and drink purchased on the premises may be consumed in the building.
Mobile phones and digital watch alarms must be switched off in the auditorium.
In the interests of other patrons, babes in arms are not usually admitted. Exceptions may be made for pantomime and certain children's shows, when prior arrangements should be made with the Box Office and a ticket purchased irrespective of the age of the child.
Due to fire regulations, all patrons, including babes in arms, must be in possession of a valid ticket before entering the auditorium.
The management reserve the right to refuse admission of the ticket holder to the premises.
The Management reserve the right to request the ticket holder to leave the premises and to take any appropriate measure to enforce such a request.
Cameras and any form of audio or visual recording equipment are strictly forbidden in the auditorium.
Latecomers will not be admitted, (prior to the show or after the interval) until a suitable break in the performance. Latecomers if admitted, may be required to occupy alternative seats.
The Management may alter or vary the programme, artistes and timings without consultation or compensation.
The performance may be cancelled for reasons beyond the control of the Management without notice and without the Theatre being liable to pay any person any compensation whatsoever other than a possible percentage or maximum refund to the ticket holder of the value of the ticket.
When you book online we reserve the right to refuse entry to the theatre if your order confirmation e-mail is not produced upon your visit to the Theatre.
Supported by: