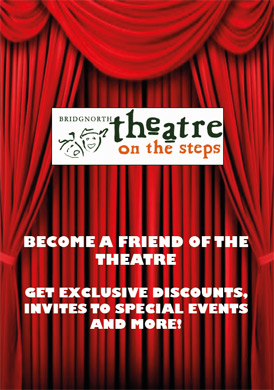 The Golden Beak Comedy Awards 2013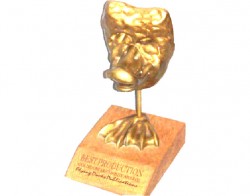 THE GOLDEN BEAK COMEDY AWARDS 2013
It is the time of year when Bridgnorth becomes the comedy capital of Great Britain with Theatre Companies from all over Britain descending to compete in the annual GOLDEN BEAK COMEDY AWARDS. Comedy abounds as there are two separate series of one act comedies on Sunday afternoon and evening, with each performance followed by a fascinating adjudication with the Awards Ceremony itself following the last performance on Sunday night. As always the atmosphere will be electric, creating a tension for the competing theatre companies which will be greater than at the OSCARS, whilst the audience can sit back and enjoy the sheer comedy each of the plays. "hilarious entertainment."
This years adjudicator is Adam Green the BBC Radio Shropshire Drive time presenter who describes himself as being a guy with a beard who has a penchant for a nice sandwich.
He has many claims to fame including going one whole month without having a drink for a TV programme, eating cat food for a job, and running two marathons. The second was a mistake.
In 2011 he was the Northgate Robber, one of the Ghosts in the Bridgnorth Theatre on the Steps world famous Ghost Walk during which he did
live broadcasts from the Theatre. He then went on to take part in BBC Televisions Stand Up for Comic Relief and knows only too well how difficult it is to make an audience laugh.
When asked the question "Can you imagine anything more terrifying than standing on stage trying to make people laugh?" Adam answered "No" as he headed for the door!
Forthright, entertaining and willing to give anything a try – well almost anything, Adam will provide a great new perspective to the Golden Beak Comedy Awards.
Performance time 2pm & 7pm
Ticket Prices One Session £7.00 -Day Ticket £12.00
THEATRE ON THE STEPS - CONDITION OF TICKET SALES
Once purchased tickets may not be exchanged nor money refunded.
Smoking in all areas of the Theatre is strictly forbidden.
Only food and drink purchased on the premises may be consumed in the building.
Mobile phones and digital watch alarms must be switched off in the auditorium.
In the interests of other patrons, babes in arms are not usually admitted. Exceptions may be made for pantomime and certain children's shows, when prior arrangements should be made with the Box Office and a ticket purchased irrespective of the age of the child.
Due to fire regulations, all patrons, including babes in arms, must be in possession of a valid ticket before entering the auditorium.
The management reserve the right to refuse admission of the ticket holder to the premises.
The Management reserve the right to request the ticket holder to leave the premises and to take any appropriate measure to enforce such a request.
Cameras and any form of audio or visual recording equipment are strictly forbidden in the auditorium.
Latecomers will not be admitted, (prior to the show or after the interval) until a suitable break in the performance. Latecomers if admitted, may be required to occupy alternative seats.
The Management may alter or vary the programme, artistes and timings without consultation or compensation.
The performance may be cancelled for reasons beyond the control of the Management without notice and without the Theatre being liable to pay any person any compensation whatsoever other than a possible percentage or maximum refund to the ticket holder of the value of the ticket.
When you book online we reserve the right to refuse entry to the theatre if your order confirmation e-mail is not produced upon your visit to the Theatre.
Supported by: